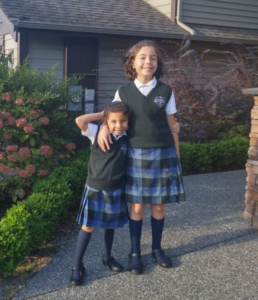 Having lived outside of Canada first and raised as Catholics, we longed for a community that could help us support our daughters in the kind of education and strong traditional values we wish for them to practice. Nowadays with so much influence by media and external sources, it is even more important for us that we stay close to our faith and to our roots with Jesus at the center of our family.
We are thankful how St. Pat's school environment has helped us grow in the last 5 years and strengthen our faith and its values. We have learned to give and have received; we have matured and have cherished every moment.
Not only our daughters but we too, have been blessed with wonderful relationships through the school who have opened their homes and their hearts to us. There are many good families to be known and with whom to share.
With an incredibly supportive school staff who have always been kind and devoted to our children and a warm, caring parish priest In Fr. Matthew To, always concerned for our school and parishioners, it is an excellent school community.
We are truly grateful for being part of it!
-Cynthia & Fernando Soler