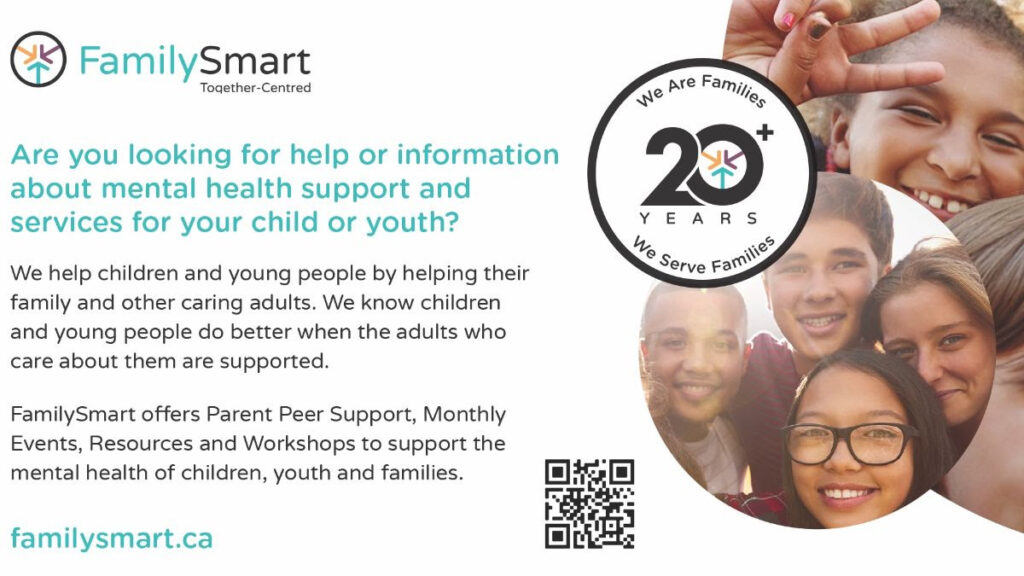 Parent Peer Support We provide emotional support, information, resources and help in navigating services for all parents and caregivers with a child, youth or young adult with mental health and/or substance use challenges. Our services are free and available to families living in BC and Alberta. There is no waitlist.
Monthly Online Events for Parents & Caregivers Join us to watch a video by an expert speaker and talk with other families about what helps. Online events are facilitated by FamilySmart Parent Peer Support Workers. Fall Event Topics:

September – Parenting When Anxiety Shows Up As Anger.

October – Building Connection With Our Kids When It Feels Impossible.

November – It's Never Too Late: Healing Parent-Child Relational Stress Using Emotion-Focused Family Therapy.

December – ADHD – The Real Deal.
Help for the Hard Times Workshops
Workshops for families and caregivers whose child or youth has been a patient in a psychiatric unit or had an ER visit due to their mental health. It's really tough to be going through hard stuff with a child or youth who is struggling with their mental health and they end up in crisis – and we want to help. Workshops are free, hosted online and facilitated by parents with lived experience. "Hearing from parents who have navigated these challenges themselves, was a real gift. The information was practical, but it also seemed more believable because it came from experienced parents. I wanted to BELIEVE that things would be OK, and that I will find a way to support my daughter. The workshop gave me this belief … as well as the practical resources." – Parent Participant

Working Well Together Workshops for Schools We know your role as educators focuses on the whole child, including their mental health and supporting students' mental health can be hard.

Educators, school counsellors, students and families have shared some skills with us that make it easier for all of us to work well together.

Join us to learn a few more ideas and skills that support the important connection between homes and schools. Invite us to a Pro-D day or staff meeting. There is no cost to schools in 2022.
Working Well Together Training
We are happy to announce that we are offering our Working Well Together Training in October 2022. We have spots available for young adults (18 to 26 years) and parents/caring adults with lived experience, and service providers to participate in this training.

Young Adults and parents/caring adults who fully participate and complete the training will receive an $80 honorarium. Participants receive a Certificate of Participation.