Walk with Jesus Our Living Hope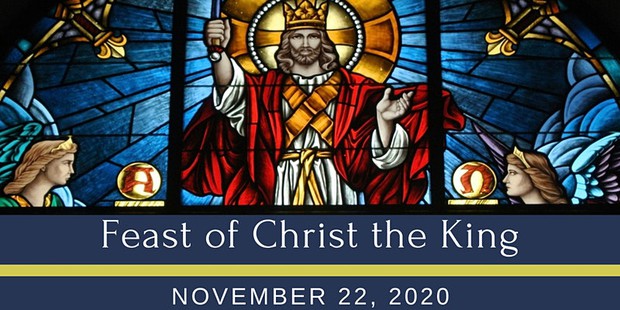 November 19th, 2020
Dear Families,
How quickly we have gotten to this part of the liturgical year! This weekend we are celebrating the Solemnity of Christ the King. This Feast day reminds us that Jesus Christ is King of all, the true ruler of both heaven and earth. Yet in the coming days of Advent, we will be reminded that he came as a little baby to humble parents, not royalty. His Father sent Him down as flesh and blood to save us.
I want to thank you for all your generosity during this time with our fundraisers and our charity donations. The excerpt from this week's Gospel reminds us that all our gifts for our brothers and sisters in need are done in the name of Jesus.
And the King will answer, "In truth I tell you, in so far as you did this to one of the least of these brothers of mine, you did it to me." – Matthew 25:40
Let us celebrate our King this weekend! Next week, I will share with you just how much excitement I get out of the Advent season. It is truly my most favourite time of the year!
Congratulations on the Krzus family on their new addition. Welcome to the St. Patrick's community, baby Samuel!
May God bless you and keep you safe.
Yours In Christ
Mrs. Maria Fonseca
pdf DAILY HEALTH CHECK UPDATED.pdf Download 101.8 KB
What's New?
Temporary Transition Students
Please be aware that the temporary transition student's school work will be out in the breezeway as per usual tomorrow (Friday, Nov. 20th) but the school office will be closed as it is a Pro D for all the staff.
I would like to invite our Temporary Transition Students to meet with me in small groups via Zoom next week. I look forward to meeting them, even if it is through the screen. A Zoom invite will be sent out! It is an optional meeting but I would love to get to know you! Bring your hot chocolate, tea or coffee (that's for me!) and we can have a chat!
Tuesday, Nov. 24th – 9:30-10:00: K – Gr. 2
Tuesday, Nov. 24th – 1:15-1:45: Gr. 3 & 4
Wednesday, Nov. 25th – 9:30-10:00: Gr. 5 – 7
Christmas Concert Update
To allow for more time to create our Christmas Concert Video, we will send the link out on December 11th for you and your family to view.
All costumes should be brought to school next week.
PLEASE RETURN YOUR CHILD'S RECORDING CONSENT FORM TO THE CLASSROOM TEACHER. We cannot include them in the video without your consent. pdf Costumes 2020.docx.pdf Download 107.6 KB
FUNDRAISERS
Please check our fundraiser page as we have a few ongoing. We appreciate all your support at this time as we cannot have our larger annual fundraisers due to COVID-19 protocols. Every little bit helps!
Neufeld Farms: Remember to pick up your orders this Saturday Nov. 21st @ 10:00 at the school drive through
Anita Alberto Christmas Photo's: Please follow Covid protocol when coming to the school for your appointment this weekend
Growing Smiles Fundraiser: (poinsettias, planters & wreath sales) from November 16th – 27th. Delivery scheduled for December 4th.
Mask Fundraiser: The Fundraising team have teamed up with Staples and have created some great masks for students and their families. These masks are all black and have a one size fits most design with adjustable ear straps. They are each stamped with our St. Patrick's School logo. Masks will be on a first come, first serve basis as supplies are limited.
Cost: $10.00 each or 5 for $40.00