Weekly Update for St. Patrick's School Community
Walk with Jesus Our Living Hope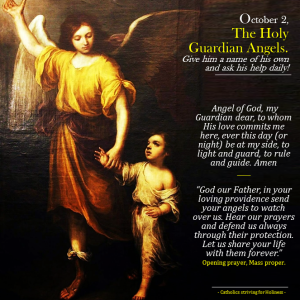 Dear Families,
Happy October! This month we celebrate the Holy Rosary. I encourage you to share this beautiful way of praying and the recollection of the life of Our Lady with your family. Below are some resources you may find useful.
This month we are also focusing on the virtue of Respect. To respect someone means you recognize that he or she is important and deserves to be treated well. We feel that our children are quite respectful already towards the staff and need only small reminders to show that same respect to their peers.
We also remind them to show respect at home by listening to their parents and doing chores around the home without being asked. When we "catch" them doing respectful things, staff members will be giving out tickets so students can be entered in a weekly prize draw.
It was such a different start to our school year but I want to thank you for your help and support in making it a successful start. The students seem happy to be back with their friends and their teachers. I am slowly getting to know them each by name and get to have short conversations with them. We are blessed to have them here.
Yours In Christ,
Mrs. Maria Fonseca pdf DAILY HEALTH CHECK UPDATED.pdf Download 101.8 KB
What's New?
Please note that after school supervision is until 3:15 pm and will be reflected in the Parent Handbook.
Photo Proof Sent Home Today
In this time Lifetouch is relying more on your partnership than ever.
Please use their online ordering system at mylifetouch.ca to minimize collecting orders at school. This online system is very user friendly and links parents orders to the "MyLifetouch" reward program. This helps you save money on future orders. You can find the detailed information on the proof packages that your child is bringing home today.
Photo orders sent into school are DUE: OCTOBER 9th.
RETAKES will take place on OCTOBER 26th.
Fire Prevention Week
Oct 4-10 is Fire Prevention Week
We will be conducting our first fire drill next week to ensure that the students know how to get out of the buildings and where to line up.
It is also important to have that conversation at home. Do you have a meeting point far enough away from the house? Do you all know where to exit from in the different rooms? While this type of conversation may be scary to have, it can also be reassuring so the children feel prepared.
Hot Lunch for October
We are offering Loz Takoz (Oct. 14) and KFC (Oct. 28). On-line ordering on the school website.
Orders and payment due on Oct 7 (for BOTH days).
Temporary Transition Students
Please let us know by October 6th if your child is joining us on October 13th.
Week In a Glance
Tues. Oct. 6th – Deadline for Temporary Transition families to let us know students are returning for Oct. 13th.
Wed. Oct. 7th – Early Dismissal at 2:00pm
Important Dates
Oct 12: Thanksgiving– No School
Oct 13: First Return Date for Temporary Transition Students
Oct 23: No School– Pro D Day for Staff
Oct 26: Photo Retake day
Oct 29: Celtics Day (Non Uniform)
Oct 30: Parent Teacher Conferences (More details to follow)
A Message from the Life Compass Society
The first Sunday in October is Life Chain Day to defend human life across the Lower Mainland, and all of North America. We are planning a LIFE CHAIN here in Maple Ridge for the first time.
We will meet at St. Luke's parking lot, 20285 Dewdney Trunk Road, Maple Ridge, at 2 pm.
Signs will be available and we will space ourselves 6 feet apart along the sidewalk between the Church parking lot and Lougheed Highway.
Join us in solidarity with the pre-born, elderly and those living with a disability… and bring a friend.
The LIFE CHAIN is also a great way to teach your children and/or grandchildren to defend all life… and to avoid the prevalent culture of death.
Resources for Praying the Rosary